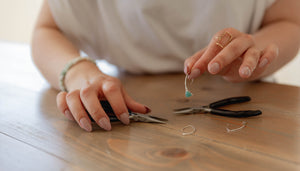 Returns & Repairs
Returns
Glee wants you to love your new jewelry, so please do not hesitate to contact us with any questions about sizing, color, or materials before you place your order. (see our "about us" page for product information)

RETURNS/EXCHANGES

To be eligible for a return/exchange, your item must be unused and in its original packaging.

A proof of purchase is required before Glee will consider an item for return/exchange. Please be advised that if a proof of purchase is not available we will not be able to process the return/exchange.

Please be advised that Glee's shipping costs are non-refundable and that the customer is responsible for any shipping costs for returns and exchanges.


Return Process:
1. Email customer service (info@getglee.com) with the subject line "Return" or "Exchange" within 7 days of receiving your order. Please include the reason for your return in the email (including a photo is strongly recommended)

2. Glee will review your return and provide you with further instructions.

3. The customer is responsible for shipping the items back to Glee in its original packaging with the return code either written on the box or included in the package. The customer pays any shipping fees (including customs fees, etc) for returns.

4. Once Glee has received the package (postmarked within 7 days of email sent with RA code) please allow for 1-2 days for processing.

Please send all returns/exchanges to:

Glee Jewelry
3-416 Garbally Rd
Victoria B.C., CA
V8T 2K1


When shipping back returns, we strongly recommend you obtain proof of posting and a tracking number. Glee will cannot accept responsibility for lost parcels.
Repairs
For any repairs or replacement inquiries please contact us at info@getglee.com as every situation is different and we would like to provide you with help specific to your item.

Please be advised that items may only be replaced or repaired with 45 days of delivery- at Glee's discretion (every case is different).

Damaged Items in Transit

If you receive your Glee Jewelry package and it was damaged in transit, please notify us immediately.
Please set the package aside and email us right away (info@getglee.com) with the subject line "Damaged in Transit". Please include photos of the damage.


Why my return or repair may be refused?

Glee reserves the right to refuse a return or repair/replacement. Some of the reasons may include:

1. Return instructions are not followed properly

2. There is no proof of purchase supplied by the customer or on file.

3. Any packages arriving with customs fees, etc. required upon delivery will not be accepted.

4. Your item is not unworn and in resalable condition.

Glee would like to thank you for your patience and understanding in any of the above situations and please do not hesitate to contact us with any questions you may have.